HUMAN SCIENCE INSTITUTE

A TRANSDISCIPLINARY LEARNING COMMUNITY
Thank you to all who attended the 2017
Conference!
Hope to See You Next Year!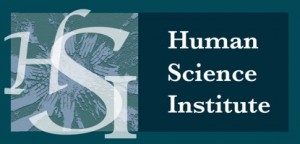 The Human Science Institute is a transdisciplinary learning community of scholars and practitioners dedicated to creating a humane and ecologically sustainable global future through education and research. Founded by Human Science scholars, researchers, students, and professionals, HSI supports the work of those responding to the challenges of our times by promoting a transdisciplinary framework that respects the multiplicity of views and ways of knowing in our diverse global community.
THE HUMAN SCIENCE INSTITUTE
Convenes scholars and practitioners in education and research conferences, meetings, events and other activities
Provides academic and professional education grounded in a transdisciplinary social science perspective
Supports independent academic and professional research and programs responsive to current environmental and social problems, acting as a fiscal agent for grants and projects
Offers a communications and networking platform to connect scholar-practitioners working on diverse contemporary issues
WHAT WE DO
Human Science is an approach to understanding human experience anchored in the philosophical traditions of critical social science, phenomenology, hermeneutics, and systems thinking. In a world of many languages, values, traditions, and ways of knowing, Human Science asks the essential epistemological questions about the nature of truth, knowledge, and reality that may allow us to understand one another.
The Human Science Institute continues this dialogue by focusing these questions on contemporary environmental and social problems and supports scholar-practitioners committed to:
Understanding how human beings make meaning of their experience, thoughts, and feelings
Developing the knowledge and skills necessary to facilitate transformative change in a complex world
Rigorous research that is respectful of other ways of knowing and empowers communities
Emancipatory values that advance equality, justice, and the thriving of human and natural communities
RESEARCH & GRANTS
As an IRS designated 501(c)(3) organization, The Human Science Institute supports independent human science and transdisciplinary social sciences research and grants. For more information regarding how we may be able to support your efforts, please contact us using our contact page.
EDUCATIONAL PROGRAMS
Continuing education and professional development courses on human science perspectives to social change; story and social change; narratives, nature, and trauma; mindful engagement and social action, and ecological systems and environmental education will be announced soon.