KEY NOTE SPEAKER – Nora Bateson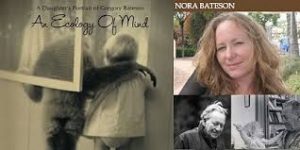 Nora Bateson, an international lecturer, researcher and writer, is also President of the International Bateson Institute. Ms. Bateson's work asks the question, "How we can improve our perception of the complexity we live within, so we may improve our interaction with the world?" Her work brings the fields of biology, cognition, art, anthropology, psychology, and information technology together into a study of the patterns in the ecology of living systems. Her recent book, Small Arcs of Larger Circles, is revolutionary in its personal approach to the study of systems and complexity. She earned international recognition for her award-winning documentary, An Ecology of Mind, a portrait of her father, Gregory Bateson.

Special Presentation: Researcher Rebecca Joy Norlander's presentation at the HSI conference will be sponsored by New Knowledge Organization Ltd., an interdisciplinary think tank based in New York City using a Human Science approach to achieve social impact. Dr. Norlander will host an interactive session about the way this approach advances a collective understanding of how the public learns from, understands, and engages with creating a more equitable and sustainable world.
Register for the
Human Science Institute
2017
Conference
A Difference That Makes a Difference: Systemic Change for Social and Environmental Justice
Call For Presentations
Click

Here

to See Guidelines for Presentation Submissions
Early Bird Registration (to July 26, 2017) is $275.00
Conference fee after July 26th will be $325.00.
After September 1st, 2017 Registration Fees will be $350.00
Where: University Guest House – 110 Fort Douglas Boulevard, University of Utah, Salt Lake City, UT 84113
Call for Presentations – Deadline: July 21st, 2017
Human Science Institute 2017 Conference
September 27, 2017 - September 30, 2017
8:00 am - 5:00 pm
Location
Venue Phone: 888-416-4075
Address:
110 Fort Douglas Rd
, University of Utah,
Salt Lake City
,
Utah
,
84113
,
United States
Description:

To Book Accommodations, Please Click This Link:
http://www.universityguesthouse.com.
Call the Toll Free Number for Reservations: 888-416-4075.
To receive the special room discount rate ($120/night, Breakfast included) say that you are attending the Human Science Institute conference when you book your room.